Cigar Lounge Owner's Guide to Smoke Removal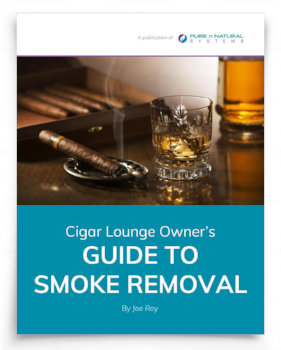 Owning and operating a cigar lounge comes with many rewards and also some challenges — including how to handle smoke removal. Buying a smoke eater can raise a lot of questions, such as: What size do I need? How much should I expect to spend? What does maintenance look like over time?
Other aspects of your business — such as location or features of the space — may also affect which smoke eater makes sense for you. Fortunately, we can help make your purchase easier.
This information in this ebook is based on Pure n Natural's 30 years of experience assisting business owners in choosing air purification systems that work best for protecting their property, customers and staff. You'll learn about:
Best practices for room ventilation
Dealing with regulations
Deciding between media and electronic units
Other features to consider
How to make

a purchase
This guide also includes real case studies from the owners of successful cigar lounges!
To access your FREE guide, just fill out the form* to the right.